Differentiation of mesenchymal stem cells into hepatocyte
Leader: Professor Léo Bühler
Transplantation of mesenchymal stem cell could become a new therapy for chronic liver failure. These cells reside in the bone marrow are multipotent and differentiate into cells of any embryonic origin.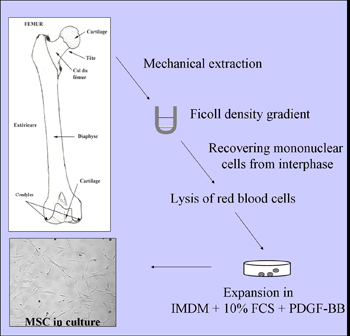 The main purpose of our project is to study the potential of adult mesenchymal stem cell to differentiate into hepatocytes and to investigate their potential for the therapeutic treatment of chronic liver failure.
We have established the techniques for isolation and culture of mouse and human (in collaboration with V. Kindler) mesenchymal stem cell. To improve expansion of adult mesenchymal stem cell as well as differentiation we are testing different culture conditions. Differentiation of mesenchymal stem cell into hepatocytes is poorly documented in the literature, therefore we will analyse molecular mechanisms underlying this differentiation by measuring gene expression in mouse and human mesenchymal stem cell during the in vitro differentiation into hepatocyte using RNA-microarrays.
To study the potential role of liver regeneration, mesenchymal stem cell will be transplanted into fumaryl-acetoacetate-hydroalse (FAH-/-) deficient mice.
These projects have the potential of developing new strategies to treat liver.
Figure: Ilustration of isolation of human MSC from bone marrow of femoral heads and chondyles