Patient care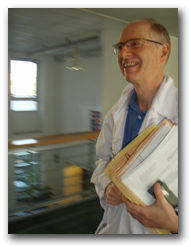 The primary objective of the medical team working within the Department of General Surgery and Transplantation of the University Hospitals of Geneva, is the daily management of the patients placed under theircare.
This includes outpatient consultations both before and after surgery, as well as for those surgical conditions not requiring an intervention, and for diseases eventually requiring referral to a specialist within a different field. The best part of the surgeon's day, and sometimes the night, is, of course, taken up by surgery itself, and the close follow up of patients after surgery up until their discharge home is naturally a part of thesurgeon's activity.
Young doctors and medical students, who have not yet completed their training, are constantly learning within the Department. Therefore,teaching forms an integral part of our daily activity.
It's always a challenge to provide the best medical care, at the cutting edge of surgical techniques, that allow us to treat severe and complex diseases. The medical team of the Department of General Surgery and Transplantation are therefore involved in a variety of research fields, both clinically on the wards, and within our research laboratory.
For this reason, a number of research protocols are in place within the service and you may be asked if you would be willing to take part, so that we can continue to improve and provide the best medical care possible.