Welcome to the website of the Department of General Surgery and Transplantation within the University Hospitals of Geneva.
The purpose of this 2-day Robotic Course is to provide extensive hands-on experience in robotic surgery. Lectures will explain the principles, advantages and potential applications of this new technology, and will discuss the clinical uses and data obtained from clinical experience in utilizing the da Vinci surgical System.

---
Natural Orifice Translumenal Endoscopic Surgery
Natural orifice translumenal endoscopic surgery (NOTES) is a new exciting concept, wich allows surgery without scars entering the body cavities or organs by natural means (digestive tract, female genital, urinary).
---
Les mardis "AstraZeneca - Chir" Visioconférences en direct avec les Hôpitaux de Sion et de Neuchâtel
Interdisciplinary meetings of the Visceral and Transplantation Surgery Service in collaboration with the "centre Hospitalier du Centre du Valais (CHCVs)" Prof. D. Saviozand Dr J.M. Ceredaand l'HÙpital de Neuch'tel Dr Y.Groebli et Dr R. Schneider

---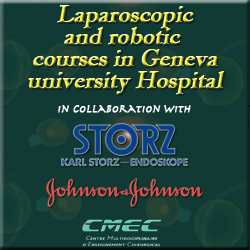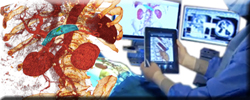 In the Visceral and Transplantation Surgery Unit we are actively studying techniques of Augmented Reality. VYou can understand how these new technologies are applied in practice following this link.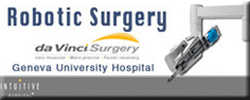 Welcome to the robotic surgery webpage of the Division of Digestive and Transplantation Surgery of the Geneva University Hospital. We are very engaged in clinical applications of the robot, training and research.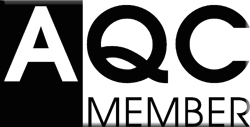 The Association for Quality in Surgery (AQC, Arbeitgemeinschaft für Qualitätssicherung in der Chirurgie) aims to build a database for statistical analysis of hospitalizations and interventions. The service of Visceral and Transplantation Surgery is actively involved in the AQC.